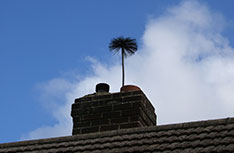 When You Need Chimney Sweeping We Are Here
Although getting a chimney swept is rarely high on the list of anyone's priorities, our service is vital and continues to improve the health and living conditions of men and women throughout the state of Delaware.
Regardless of whether you are a home or business owner, there are a variety of reasons why you should get your chimney swept. These include:
Protecting your health. The continual breathing in of fumes from open fires can damage your health. In the worst-case scenario, it can prove fatal. By getting a professional to sweep your chimney on a regular basis, you ensure that any flue is clear enough to disperse of the fumes safely.
Chimney sweeping reduces the risk of a fire. Unfortunately, sometimes accidents happen. A fire that starts in the chimney can sometimes spread to the rest of the house. A cluttered and unswept chimney is at increased risk of a chimney fire.
Reduce the risk of smoke damage. Unless a chimney is swept regularly, smoke that would have been dispersed up the flue and into the environment will become clogged up. When this happens, and there is nowhere else for the smoke to go, it will begin to disperse into and fill the room. This can have a negative effect on everyone's health and makes the room unpleasant to sit in.
A professional chimney sweeping service reduces the likelihood of any of these events taking place. We always work closely with our customer to make sure that the work undertaken meets their expectations.
---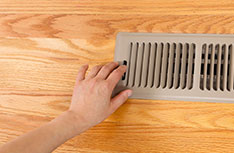 Get Amazing Air Duct Cleaning
As a professional chimney, air duct, and exhaust vent cleaning company, we know how important it is to have the air ducts of your property cleaned on a regular basis.
Some of the most important reasons are:
To reduce or eliminate microbiological contamination. This is particularly relevant in places like hospitals where there is already a high incident rate of microbiologist contamination.
To improve the health and safety conditions of everybody in the building.
To maintain and improve on the ventilation system in the building. During long hot summers it is important that all workers feel comfortable in a work place. A poorly installed or "clogged up" ventilation system can impact on productivity, cause illness, and ultimately cost your company money in lost productivity.
At Burn Clean, Inc., we provide a professional air duct cleaning service that may save you money in the long run. We recommend air duct cleaning for:
Buildings that are heavily used.
Areas where there has been a great build-up of dust.
Any building that is exposed to higher levels of pollution than others. For instance, a building located next to a highway may fall into this category.
By ensuring that regular air duct cleaning takes place, a company is showing responsibility to its employees and going a long way in providing a workplace that meets health and safety requirements.
---
We Offer Dryer/Exhaust Vent Cleaning
Burn Clean, Inc., can also offer a dryer vent cleaning service that is competitively priced and will keep your dryer working in optimum condition throughout the year. At Burn Clean, Inc., we will work closely with you to ensure that our dryer vent cleaning service meets your expectations.
Some of the signs you may see that may mean your dryer vent needs cleaning include:
Clothes that take longer to dry.
Clothes that aren't completely dry even when the drying cycle has finished.
The dryer seems unnaturally hot to the touch.
A burning smell evident whenever you use the dryer.
When any of these things occur, it is always a sensible decision to call a professional. Burn Clean, Inc., has years of experience in removing the excessive and dangerous lint build-up that may be clogging up your dryer and causing it to malfunction. Unless the lint is removed, there is an increased risk of fire.
Burn Clean, Inc.'s dryer vent cleaning service uses a variety of methods to ensure the lint within a dryer is removed and the dryer operates as it should. Depending on the type of machine and size of job, Burn Clean, Inc., will use a variety of long-bristled and thick-bristled brushes. Your safety is our number-one concern. We will only recommend that customers use their dryer again once our dryer vent cleaning service has been completed, and we are satisfied things are running as they should be.
Burn Clean, Inc., tells all of our customers that our dryer vent cleaning service could save them money in the long run. By having your machine checked on a regular basis you minimize the risk of permanent damage and keep things working as they should.
---
Simply give us a call for a free estimate! (302) 668-2909